They were extremely knowledgeable & helpful. I would highly recommend your company. Looking forward to receiving a sample of your product.
Thank you!  :)

★★★★★

Olivia L.
We appreciate the time that you were able to devote to our order getting out accurately and in a timely manner. Thank you.

★★★★★

Jeff M.
The products and service I received from your company have exceeded all of my expectations. I will diffidently be recommending you to the rest of my team.

★★★★★

Robert G.
Excellent customer service. Great turnaround on shipping.

★★★★★

Tammy G.
Fast response time. Very professional. Have always received quality products.

★★★★★

Lisa M.
Very speedy service and taken care of right away. Customer service over the phone was pleasant and resourceful.

★★★★★

Marjorrie L.
Your team is always very accommodating, very easy to do business with. Thank you!

★★★★★

Daniel K.
What Makes Mighty Line Tape Different?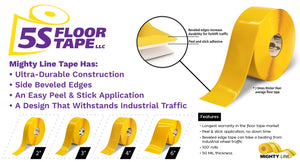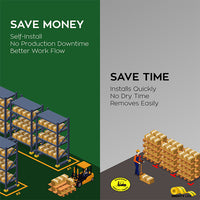 Saving You Time & Money.
5S Floor Tape LLC is an authorized dealer of Mighty Line tape products serving clients nationwide. We only carry Mighty Line products as they are the highest quality marking tape in the marketplace.
Whether you need a single item or hundreds, we offer the lowest prices and best service to all of our clients. We're looking forward to working with you!
Ultra Durable & Super Safe
Mighty Line floor tape is patented and has beveled edges on the side. Mighty Line is an industrial grade floor marking tape for warehouses, distribution centers, and other 5s lean manufacturing areas. Mighty Line floor tape can with stand industrial brush scrubbers, forklifts, and truck traffic.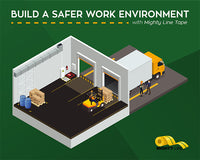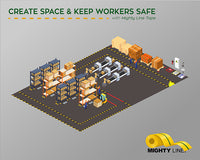 A Place For Everything. And Everything In It's Place.
Mighty Line offers the strongest floor tape, floor signs, 5s floor marking tape, and other 5s floor tape products for your facility. We know how important safety is to every organization. We offer the one warehouse floor tape product line that can help your 5s environments, the patented Mighty Line floor markings and Mighty Line warehouse floor tape products.
Keeping Your Industrial Facility Safe & Productive
Mighty Line Floor Tape helps increase productivity throughout the warehouse because of its easy installation, minimal residue upon removal, and its durability. Mighty Line warehouse floor tapes have a three year limited warranty.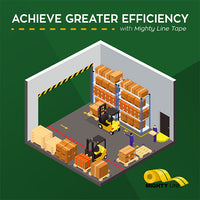 Why Mighty Line? Watch Our Videos.
Mighty Line Warehouse Floor Tape is Utilized by These Well Known Brands