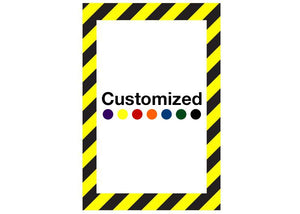 Customized Rectangle Shape Floor Sign. Mighty Line safety floor signs are a great floor marking tool. Mighty Line floor signs are perfect solutions for 5s facilities, lean operations, and for warehouse safety.

Our easy-to-use customization software gives the best results when given high resolution files of 300 dpi or greater, or vector files. Not sure if you have a high resolution file? We can help! Give us a call at 1-213-376-2999 or submit a request on the contact us page.

Customize It! Video Tutorial
Please take a few minutes to watch our tutorial on how to get the best results when using our Customize It! software.